Alterego Black RHF Leather Chaise And Armchair With Chrome Legs Newtrend Available In A Range Of Leathers And Colours 10 Yr Frame 10 Yr Pocket Sprung 5 Yr Foam Warranty
Fast Delivery

Mainland UK (Terms Apply)

Hassle Free Returns

Within 7 Days of Delivery

Order by Phone

Call Us: 0121 306 0117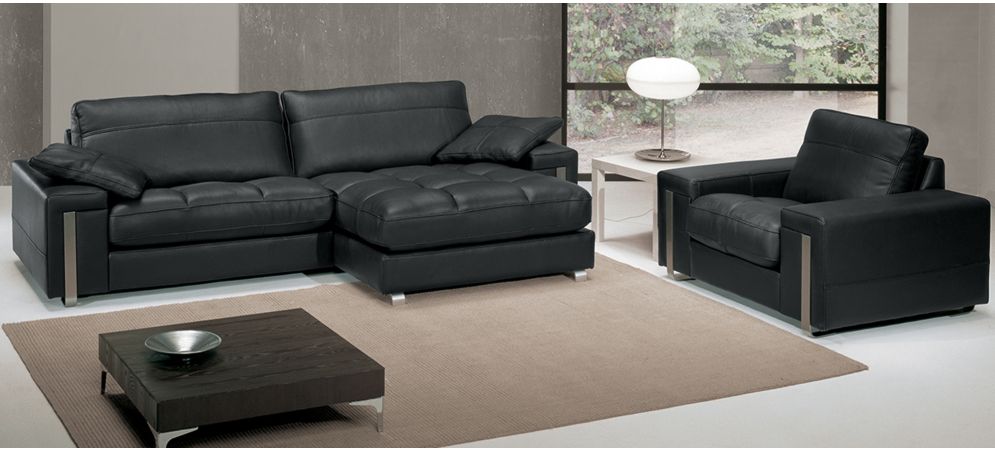 23% Off
material

Leather

size

Leather

style

Square Arm

finish

Leather
Corner Sofa

A. Height 85cm

B. Width 280cm

C. Depth 104cm

Armchair

A. Height 85cm

B. Width 125cm

C. Depth 104cm
Semi-Aniline Leather
Semi-aniline leather sits between corrected grain and fully aniline leather. It is often manufactured from better-quality hides with fewer natural markings. Unlike a corrected grain leather, the surface is not buffed or corrected, so some natural markings may still be visible. Aniline dye is predominantly used to colour the leather, and a thin pigment coating is then applied to its surface. A much thinner coating of pigment is used on semi-aniline leather to allow the natural beauty of the leather to show through.
We use Softouch leather match on the lower sides and back of our sofas. This is polymer-based material and has an embossed grain very similar to leather. With huge innovations in this technology over the last couple of years, colour matching is virtually identical to the leather used.
Hardwood Frame
Our sofas are constructed using a Hardwood Frame. You'll notice this if you ever come to move the sofa! They are very heavy and each one is glued and screwed with dowelled joints that provide superb rigidity.
Delivery
We offer a 7 day, and 14-21 delivery options. Please check your shopping cart for delivery pricing.

LeatherSofaWorld® Team