Ikon Grey Bonded Leather 3 + 2 Sofa Set With Chrome Legs Ex-Display Showroom Model 49609
Fast Delivery

Mainland UK (Terms Apply)

Hassle Free Returns

Within 7 Days of Delivery

Order by Phone

Call Us: 0121 306 0117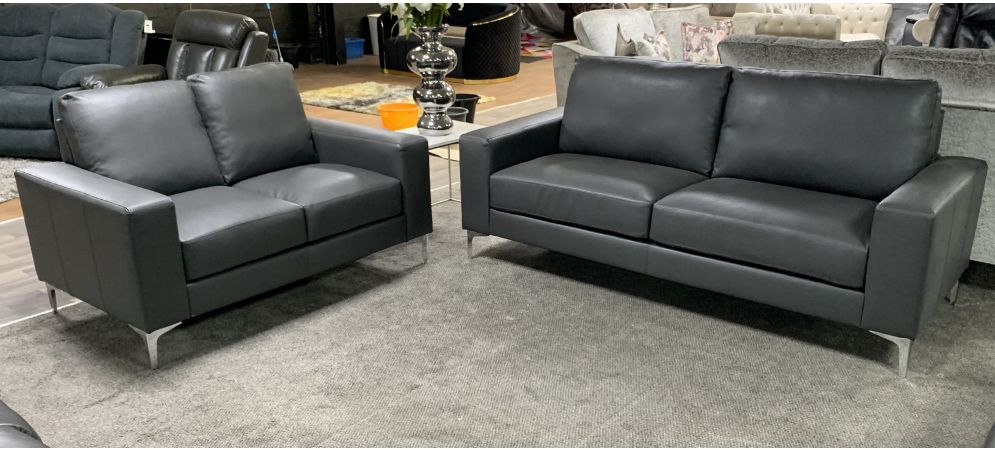 50% Off
material

Leather

size

Leather

style

Square Arm

finish

Leather
Large Sofa Size

A. Height 90cm

B. Width 190cm

C. Depth 80cm

Regular Sofa Size

A. Height 90cm

B. Width 135cm

C. Depth 80cm
Clearance Item
Ex-display products have been displayed in our showroom for a period of time. Ex-display products may have scratches, blemishes or marks. The items may have other damage which is not visible on the product images. These products are purchased on a 'sold as seen' basis and do not come with any form of warranty. They are not eligible for return once you have accepted the product.
Bonded Leather
Bonded leather is composed of leather fibres, bonded with our specialist binder technology. This creates a high quality leather finish which is extremely durable with a stay new look that is also soft to the touch.
On the lower sides and backs we use Soft-touch leather match with an embossed grain identical to the hide.
Hardwood Frame
Our sofas are constructed using a Hardwood Frame. You'll notice this if you ever come to move the sofa! They are very heavy and each one is glued and screwed with dowelled joints that provide superb rigidity.
Delivery
We offer a 7 day, and 14-21 delivery options. Please check your shopping cart for delivery pricing.

LeatherSofaWorld® Team