Queen Divan (King Size 5FT Bed), Full Orthopedic, Pocket Sprung, Hyper Foam, Knitting Fabric
Extra Savings
SKU
LSW-ABC-DIVAN-QUEEN-5FT
RRP:£
1,899.00
SAVE £604.00
Delivery
For delivery areas 200 miles+ outside of the Birmingham area please contact us for a quotation.
The name of the design that takes its power from its simplicity is Queen. It has a beauty beyond your dreams with its design enriched with elegant details and its smooth appearance.

Queen base, which is produced from 6 steel profiles and stands out with its durability, is just as strong as a queen. This unique design, worthy of royal families, will add a completely different atmosphere to your bedroom.
The Mattress consists of specially produced Elegance fabric and Hypersoft sponge by quilting and combining with high density sponge and package spring system. Thanks to the package springs that can move independently of each other, you are not affected by the movements of your partner, your sleep is not divided. Hyper Extra gives comfort with its comfort sponge. In addition, the package springs that move independently support different parts of your body proportionally.

⦁ 2000 Pocket springs (King)
⦁ Extra Comfort
⦁ Knitted Fabric
⦁ Full Orthopaedic
⦁ Pressure equalisation
⦁ Hyper foam
⦁ Ecological fabric
⦁ High density foam
⦁ Thermobond fiber
⦁ Mattress height 31 cm
Hardness Degree – (3) Medium
Specifications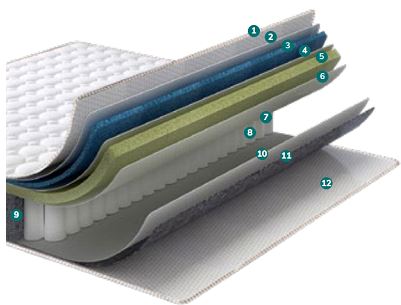 1. Special production knitted fabric
2. Siliconise fiber
3. Hyper extra comfort foam
4. Spunbond
5. Fully orthopaedic support foam
6. Special production white padding
7. Spunbond
8. Fully orthopaedic pocket springs
9. High density edge support foam
10. Special production white padding
11. High density padding
12. Non slip bottom panelling
Corrected Grain Leather
During the tanning and finishing process, the hide is dyed and the natural imperfections are covered or removed. Then, using a roller technique, the top grain pattern is embossed onto the leather, and the protective coatings are applied. These coatings give the leather excellent durability and high resistance to fading from the sun. This produces a leather with a uniform grain.
We use Softouch leather match on the lower sides and back of our sofas. This is polymer-based material and has an embossed grain very similar to leather. With huge innovations in this technology over the last couple of years, colour matching is virtually identical to the leather used.
Hardwood Frame
Our sofas are constructed using a Hardwood Frame. You'll notice this if you ever come to move the sofa! They are very heavy and each one is glued and screwed with dowelled joints that provide superb rigidity.
* Optional Premier Care Accidental Warranty
Premier Care is designed to make sure that your furniture's appearance is not spoiled by everyday accidents such as household spills, rips, tears or burns. Premier Care provides you with peace of mind that repair costs and stain removal are taken care of. Stains Cover - Covers you against accidental household spills resulting in a stain on your leather or fabric upholstery.
Accidental Damage Cover - Guards you against accidental resulting in a rip, tear or burn to your leather or fabric upholstery. Leather is also covered for scratches, punctures or scuffs. Structural Defects Cover - Covers the cost of materials and labour for any structural defects after the initial manufacturer's guarantee period has ended, offering you peace of mind for five years. Please contact our sales team to add this additional warranty.
* Optional Leather care Kit
The ultimate leather care product as used by professionals worldwide. Leather care provides powerful cleaning and protection for leather around your home. Our leather care kit includes the following products: Leather Protection Cream which will assist you in repelling stains and soiling. Leather Soft Cleaner will clean most stains from your leather sofa. It is water-based and penetrates into the surface to clean without harming the leather. Ink Away eliminates stains and pen marks, ink and lipstick from leather.
Delivery
We offer a 7 day, and 14-21 delivery options. Please check your shopping cart for delivery pricing.
More Information

| | |
| --- | --- |
| Recliner Type | Fixed |
| Material | Genuine Leather |
| Use Promo Banner | No |
| Product Banner Content | |
| Product Banner Colour | #D80208 |
| Brand | Leather Sofa World |
| RRP | £1,899.00 |
| Minimum Advertised Price | £3,517.00 |