Holden Two Tone Grey Leathaire 3 + 2 Manual Recliner Sofa Set
Fast Delivery

Mainland UK (Terms Apply)

Hassle Free Returns

Within 7 Days of Delivery

Order by Phone

Call Us: 0121 306 0117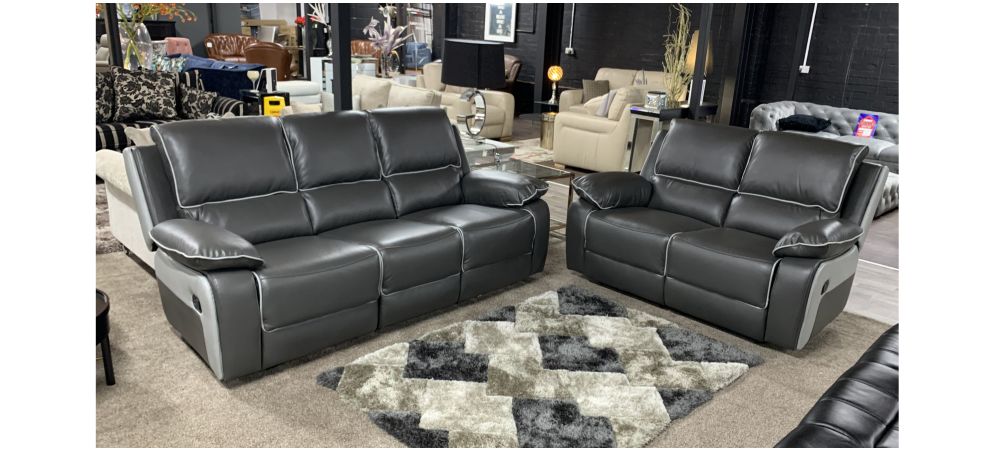 23% Off
material

Leathaire

size

Leathaire

style

Padded Arm

finish

Leathaire
Large Sofa Size

A. Height 100cm

B. Width 210cm

C. Depth 95cm

Regular Sofa Size

A. Height 100cm

B. Width 160cm

C. Depth 95cm
Leathaire - Innovative and Advanced Technology
By making use of most advanced and Innovative Nano Technology LeathAir is able to offer a 100% breathable material that adapts to the bodies temperature. This breakthrough means your sofa is will remain cool in the summer and won't get cold in the winter. Leathaire is heavyweight and highly durable whilst remaining super-soft and drapable. It is also very easy to clean making it a perfect fit for busy families, Offices and daily use.
Hardwood Frame
Our sofas are constructed using a Hardwood Frame. You'll notice this if you ever come to move the sofa! They are very heavy and each one is glued and screwed with dowelled joints that provide superb rigidity.
Delivery
We offer a 7 day, and 14-21 delivery options. Please check your shopping cart for delivery pricing.

LeatherSofaWorld® Team